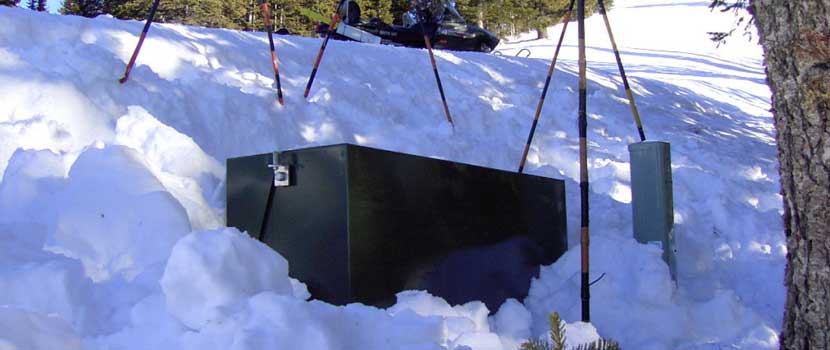 Fatal ski accident
A man in his 60s was enjoying a day of downhill skiing at a Rocky Mountain resort when disaster struck. As he was descending the groomed trail, the skier was fatally injured when he lost control, left the ski run, and contacted an electrical box off the groomed trail but still inside the area cleared of trees for the ski run.
Edison Engineering was contacted significantly after the accident had occurred when the snow conditions on the ski hill had changed substantially. Our client asked us to provide a better understanding of the accident: how it occurred, could it have been prevented, and whether we could gain any insights into whether or not the skier was skiing responsibly.
The investigation into this highly unique accident required the assimilation and consideration of evidence from many disparate sources. Although certainly not comprehensive, some of the more critical pieces of information utilized were:
Damage to the skier's helmet, which had impacted the electrical box during the accident;
Jacket fibers which locally melted due to the severity of the impact;
Analysis of the injuries sustained and both the manner in which they could occur as well as the conditions under which they could occur;
Geometry in the area near the accident as captured by a 3rd party post-accident survey in conjunction with overall ski run geometric information;
Post-impact skier motion and interaction with other objects;
Measurement and research into skier speed and behavior;
Physical damage to the electrical box as a result of impact; and
Skier ballistic trajectory possibilities, both in terms of what could have possibly occurred and also what could not have occurred.
Our inspections, testing, and analysis gave us significant insight into the accident and how it had occurred. As a result, our client was comfortable calling upon us to assist the jury in understanding matters related to the accident during a settlement trial.
Services
Accident Reconstruction
Photogrammetry
Testing & measurement
Mechanical engineering & failure analysis
Modeling, animation & data visualization